So, um...confession time. I have a lot of patterns......which is a little like saying the ocean has a lot of water, or the sky has a lot of air. I have a LOT of patterns.
The thing is, I use them! (No, really! I'm probably one of about 6 people on the planet who actually use their home pattern collection on an almost daily basis. lol) So, obviously, organization is key.
I'll show you how I do it, but only if you all promise not to report me to Hoarders or something. heehee
Okay. When I get a pattern, the first thing I do is label a 6x9 manila envelope with the manufacturer and pattern number, then take the pattern and instructions out of the original sleeve and move them to the manila envelope.
These get filed into plastic storage boxes in number order, with no regard for manufacturer.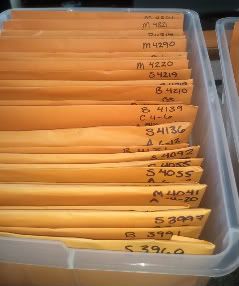 Next I cut the original pattern sleeve open so it will lay flat.
Yes, even the vintage ones.
~* insert collective gasp here *~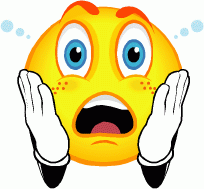 Disclaimer:
Before my fellow
pattern hoarders
seamstresses get the tar and feathers out, I have patterns to use them. It's fun to find vintage goodies, and the pictures are adorable, but it's MORE fun to use them.
/Disclaimer.
So, my now flattened pattern sleeve goes into a sheet protector and filed into one of two pattern books.
Patterns in the books are sorted by category.
Now, if I want a skirt pattern, I go to the books and look in the appropriate category. No need to rifle through the
ungodly number of
pattern boxes in my sewing closet. If I find a random pattern piece for Simplicity 2526 laying under the sewing desk, I can go directly to that number in my pattern envelopes and return it to it's friends.
I dont' have a clue how many patterns I actually have. I'm afraid to count, to be perfectly honest. But here's an idea....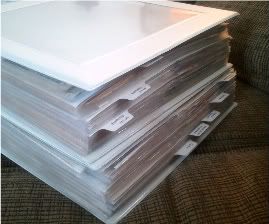 Two 3" binders worth of patterns...or 9 boxes. Remember, you promised not to call Hoarders on me! ;o)