A girl, a witch and a dog.
A scarecrow, a tin man.
Lions, and tigers, and bears.
OH MY!
It's time for the spring ballet show, and this years production is a trip down the yellow brick road. Join us for 13 weeks of dance, excitement, and learning because we're....
Creating Oz!!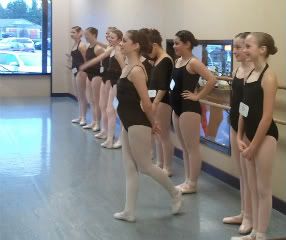 We had auditions today, and there was a LOT of excitement in the air!
Every studio has their own audition system and most run like a fine oiled machine. At our studio, the audition is split into groups by age. A little while before their appointed time, dancers arrive with complete paperwork and receive a number. They have a few minutes to warm up and prepare before they head into their audition.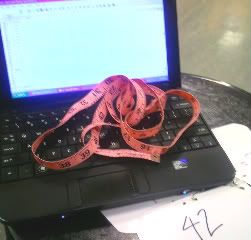 After each group auditions, they come see me! Everyone gets their measurments taken right then and entered into the computer. There are seamstresses who take MUCH more detailed measurements than I do, but I find that I only need a few. Bust, waist, hip, girth, back waist, waist to knee and waist to floor. The girls who get platter tutu parts will have more detailed measurements taken later.
All of the dancers turn in their numbers, pack up their things, and go home for the long wait. :)
Everyone did a beautiful job today. I can't wait to get the cast list. Good Luck, ladies and gentlemen!